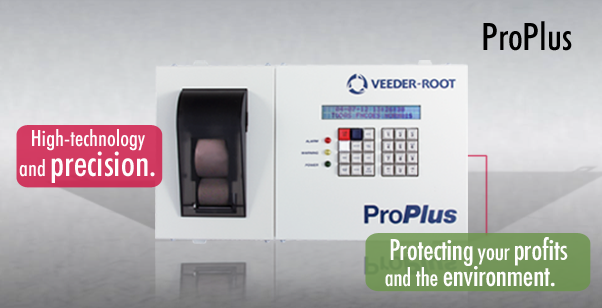 PROPLUS is an automatic tank gauge system that continuously and simultaneously gauges up to 8 fuel tank compartments with 0.01 mm resolution, ensuring precision and reliability for your gas station fuel inventory management.
ProPlus also monitors up to 16 line leak detection sensors, avoiding loss of fuel and hence soil contamination, preserving the environment.
The system provides instant reports and information with printing date and time, and can be programmed to issue those reports automatically up to 4 times (shifts) per day. The reports and information shown on the console display are:
Fuel volume
Temperature compensated fuel volume (reference 20°C)
Last delivery volume
Tank ullage
Fuel level
Water level and volume
Tank temperature
Fuel delivery report (automatic)
Alarms
Alarms history
The system also issues alarms which are also shown on the console display and trigger audible and visual signals in the following events:
High fuel level
Low fuel level
Minimum fuel inventory (reorder level)
Overfill
Water level
Sudden fuel loss
Leaks
If the console is connected to a printer, which is an optional item, reports, instant information and alarms can be printed.
The ProPlus system has 2 relays outputs, 1 serial RS-232 output for management software communication, and an optional Ethernet output.
It is possible to issue a report through the serial port for the last 10 deliveries per fuel tank compartment stored in ProPlus memory.
The ProPlus system is equipped with a self-checking circuit that oversees correct operation of its probes and sensors, warning the gas station operator through alarms about any occurrence.

The success of your business must be supported by solutions and technologies at your fingertips. You need a partner. Someone who listens to you. Someone who can meet your needs, your customers' needs, and your financial needs. We have all the products and services you are looking for. Count on us to help you and contact us for further information .
Gilbarco Veeder-Root reserves the right to change one or more specifications of its products with no prior notice whenever improvements are made. Be sure to check the current product specification at the time of purchase.
The ProPlus tank gauging and environmental monitoring system is a Veeder-Root product.
Veeder-Root is a trademark of Gilbarco Veeder-Root.