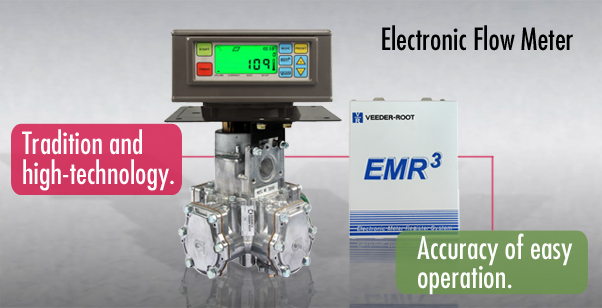 The Electronic Flow Meter is used to measure and control consumption of gasoline, ethanol, diesel and kerosene. Other liquid fluids (on request).
MAIN TECHNICAL FEATURES
Maximum outflow: 90 lpm
Minimum outflow: 5 lpm
Maximum operation pressure: 0.20 Mpa
Operation temperature: 0°C to 40°C
Weight: 9.5 kg
C+Meter
Built in aluminum.
Gilbarco C+ meter with electronic calibration and 4-piston positive displacement design with stainless steel bushings which increase the meter durability.
The viton rings present in the 4 cylinders caps provide superior sealing compared to the joint sealing usually employed in pump meters from different suppliers.
EMR3 Electronic Meter Register
Power supply: 12 or 24 VDC
Register: 6 configurable digits (5 integers and 1 decimal)
Totalizer: 8 digits
Preset: 6 digits, 2 output relays
Backlit liquid crystal display.
Robust programming keypad.
Nonvolatile memory continuously stores the last 200 transactions made.
Volume, totalizer and preset on the same display.
IB relay setup: 0 and 4
3 input and output communication ports (RS-232/485).
Multi-point calibration for exceptional accuracy, allowing calibration of up to 8 points from minimum to maximum outflow.
Intrinsically safe electronic head that can be installed directly in the volume meter register.
The intercommunication box (IB) must be installed outside the selected area, at a maximum distance of 304 m.
In Brazil, approved by Ordinance 83/2006 and Inmetro RAC (Compliance Assessment Rules).
Know more about the EMR3 Electronic Meter Register, its benefits and functionalities.

The success of your business must be supported by solutions and technologies at your fingertips. You need a partner. Someone who listens to you. Someone who can meet your needs, your customers' needs, and your financial needs. We have all the products and services you are looking for. Count on us to help you and contact us for further information .
Gilbarco Veeder-Root reserves the right to change one or more specifications of its products with no prior notice whenever improvements are made. Be sure to check the current product specification at the time of purchase.
The Electronic Flow Meter is a Veeder-Root product.
Veeder-Root is a trademark of Gilbarco Veeder-Root.