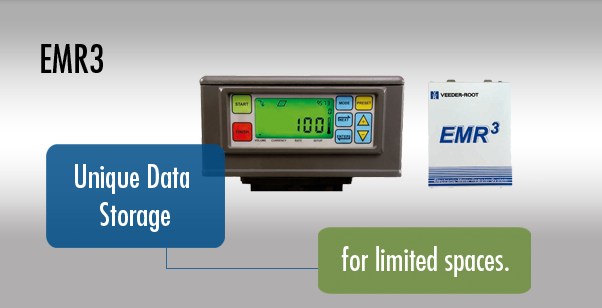 The EMR3 is Veeder-Root's Electronic Meter Register. Designed to offer a best in class end-user experience. Customisable and affordably configured to fit a wide variety of mobile and fixed base applications.
Quality Built in
Built by Veeder-Root's product team using feedback from meter-register customers around the world.
Customers have consistently rated the display as the best in the industry. The nitrogen filled, anti-fog backlit display shows four individual data fields simultaneously
Customisable to applications
The core components (Register Head and Interconnect Box) together with a series of accessories allow the user to configure a system unique to their application
Adapts to fit all meters
Communication
Included with three communications ports providing connectivity to Delivery Ticket Printers, I.B.Net and other auxiliary devices
Able to communicate with a wide variety of data capture devices
Best in class design
All weather backlit single screen display.
Multiple inputs and outputs.
Open protocol for interfacing into other intelligent devices.
Non-volatile memory continuously stores the last 200 transactions.
Weights and measures approved in most countries.
ATEX and UL approved.
Full system customisation
Multiple language capability.
Customised screen/text labels.
Volume and currency pre-set deliveries.
Temperature compensated deliveries.
Multiple product deliveries including different product calibrations.
Programming and set-up software.
Customised start-up screen.
Choice of three methods of flow meter calibration.
De-fuel and de-fueling presets.
Remote stop/start.
Dual register head simultaneous operation.
IB network with up to 16 IB units, allowing up to 32 registers (flow meters).
Fully functional remote display and control unit.
Flexible Reporting
Fully customisable delivery tickets.
Shift report printing.
Choice of up to 15 tier price/tax/discounts on the printouts.
Itemised multiple delivery reports — per tank.
System
System power: 12 or 24 Vdc, +/- 2-%, 3A nominal, fused @ 5A.
Operating temperature range: -25C to +70C (-45F to +158F).
Product dispensing precision: to 0.2% of the proving volume at 15.6C (60F).
Components
Pulsar capacity: 0 – 1000H.
Temperature compensation range: -50C to +70C (-45F to 158F).
Solenoid relays: Two relay contacts per display head at 5A.
Approvals
ATEX and UL approved.
Weights and measures: Worldwide approval inc. OIML, W&M, French, NCWM.