For those who haven't upgraded, we hear a variety of reasons for the delay. Our expert EMV team is here to debunk the myths and spread the truth.
Myth #1: EMV is just too expensive and I can't justify the cost.
The Facts: Upgrading a site to enable EMV is an investment in your store; but not upgrading to EMV technology could result in potential chargebacks that exceed $201K per site over the next 7 years.  This is much higher than the cost of upgrading a store to accept EMV at the pump. 
Myth #2: I'll wait until my site begins seeing chargebacks before I order equipment.
The Facts: On the surface this strategy sounds like it could make sense; but chargebacks typically take 30-45 days after the transaction occurs to show up on the store's network reconciliation statement.  That means that once you notice the first chargebacks, there are 4-6 weeks of transactions that have already been processed and it's likely that the number of chargebacks will grow.
Myth #3: My store isn't in a major metro area, so I don't need to worry about criminals using counterfeit magstripe cards.
The Facts: The data is clear on the point that countries that have completed a similar migration to EMV shows that the fraud migrates to stores that are not able to accept EMV chip cards – including those in rural areas. The criminals WILL find you.
Myth #4: EMV doesn't really reduce counterfeit card fraud – so why upgrade?
The Facts: Merchants who completed their EMV chip acceptance upgrades saw a reduction in counterfeit fraud by 76% per Visa.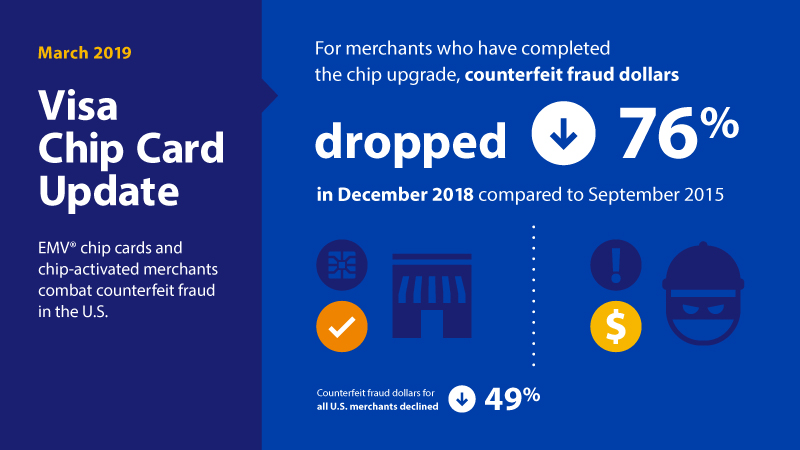 Myth #5: EMV technology can't prevent credit cards from being stolen by criminals that install skimming devices in the dispenser.
The Facts: Technically this is correct - EMV on its own doesn't detect or prevent skimming from occurring.  However, updating to newer payment electronics can provide additional benefits – such as local data encryption between the dispenser and Point of Sale.  So a skimmer device inside a dispenser is less likely to be able to obtain sensitive cardholder data, and that means fewer angry customers blaming your store for not securing their credit/debit card.
Myth #6: If I begin to see chargebacks, I can just turn off card acceptance at the pump and it won't impact my business.
The Facts: By the standards of today's consumers, this is not an option. Some customers prefer to pay with cash or come inside to pay for fuel; but a majority of consumers pay at the pump because it's convenient.  This is why virtually every retail gas station today accepts card payment at the pump.  Most stores that turn off this functionality will see a business impact in terms of fewer customers and reduced revenues.
Ready to upgrade? We can help you with financing.