The U.S. labor shortage is a problem for many industries, but the convenience store sector could be getting hit the hardest.
The overall shortage on workers is likely to last for months, according to the Federal Reserve, but when it comes to convenience stores, the pain could be longer-lasting. Even while companies raise wages and offer sign-on bonuses, they are still unable to fill positions.
Old News to C-stores
If you're a c-store retailer, this is not news to you. And it's likely that you've been dealing with a labor shortage for years, not just during the pandemic.
When we ask customers, "what keeps you up at night," the response is always about staffing. Luckily there's an economical solution that's easy to implement and helps everyone across the c-store operation - self-checkout.
Numbers Don't Lie
To put things in perspective, here's a quick rundown of labor cost savings when a self-checkout is implemented for just two hours a day.

Ok great, self-checkout saves you on labor costs. That's a given. But self-checkout doesn't just save you money, it makes you money too.
Just one kiosk can generate an extra $15,000 in annual revenue.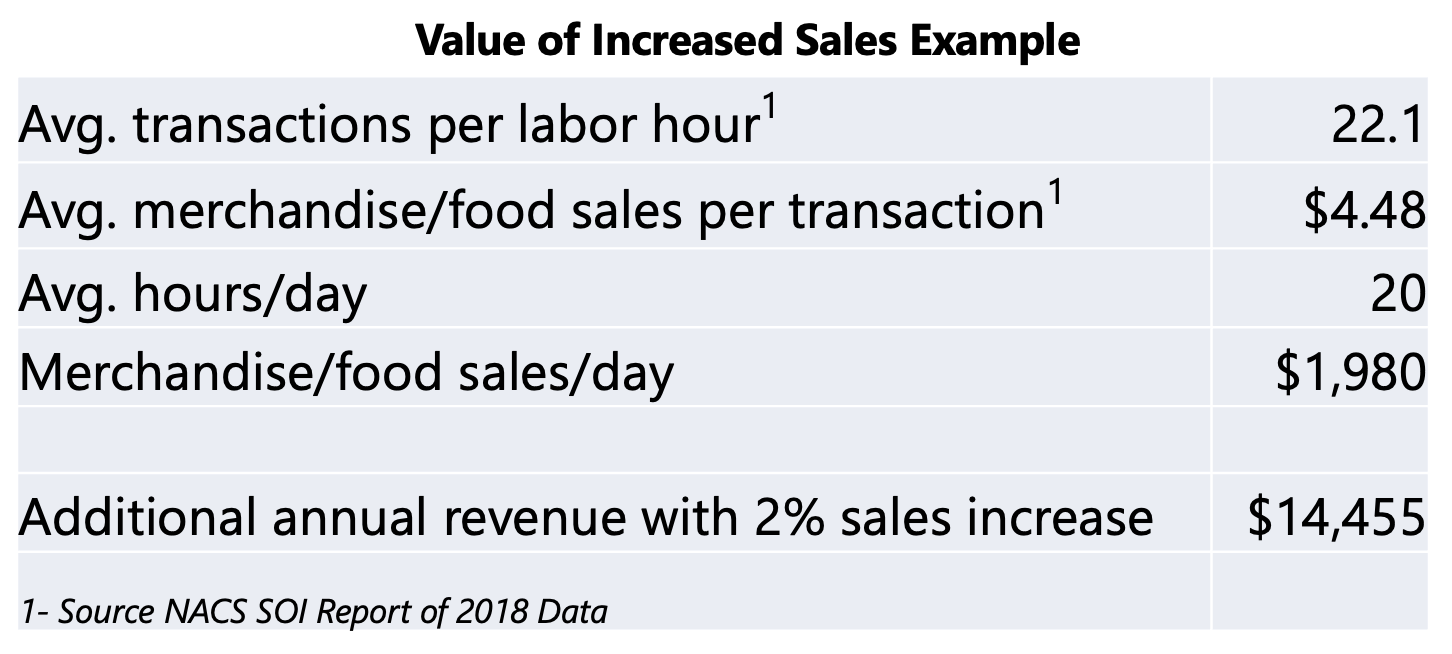 The results are dramatic and it doesn't take a CFO to figure out how quickly Passport Express Lane can pay for itself.
Don't Kill Jobs, Build Careers
While self-checkout kiosks have a job-killing stigma attached to them, c-store operators using Passport Express Lane have seen a different impact.
Like many c-store operations, Maplefields is always working to maintain a full staff, but they rely on self-checkout kiosks to fill the gaps.
With self-checkout in play, a store manager can empower employees to run the store, not just the register. Nicer stores attract better employees and the cycle of good employees builds from there.
"We try to keep one person manning the sales floor and front counter at the same time. That way, the rest of the staff can get their jobs done," says Maplefields associate, Nicole Cayea.
Life for a c-store cashier is a lot different when self-checkouts are involved. Instead of stressing about whether their jobs will be replaced by computers, these employees work with a relaxed sense of relief.
Do they have time to mop up a muddy floor? Yes.
Are shelves neatly stocked and constantly replenished? Yes.
Are the bathrooms clean? Yes.
Do they have time to wipe down pumps like they're expected to do? Yes.
"Honestly, every store should have a self-checkout, in my opinion," says Maplefields associate, Jillian Majersky. "If someone comes in and buys coffee, I'll ask, 'cash or card' and if it's a card, they don't need you. And boom, they're out in 45 seconds tops."
Everybody Wins
With self-checkout, employees are happier, stores are cleaner, customers are satisfied, and the entire brand becomes known as an easy place to stop and shop.
Want to see even more benefits? Check out this retailer that uses self-checkout to fight long lottery lines – and it works.
Ready to talk self-checkout with our team of c-store POS experts?