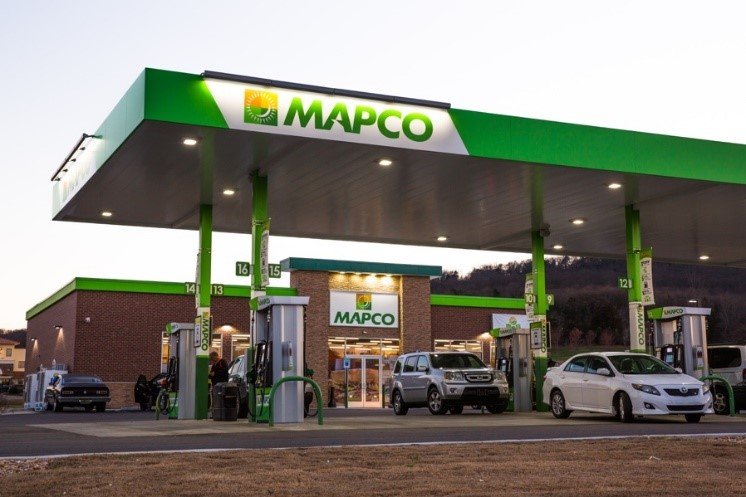 Allows MAPCO to Optimize its Operations and Enhance Customer Experience
MAPCO, an owner of nearly 350 convenience stores located throughout the Southeast United States, has selected Gilbarco Veeder-Root™ to modernize its in-store and forecourt infrastructure. MAPCO has chosen Gilbarco's Passport® Point-of-Sale (POS) System, EMV®-ready Encore® 700S dispensers and Applause™ Media System to promote sales and loyalty through an enhanced customer experience, while driving efficiency into its operations.
"Switching to Gilbarco's Passport POS system offered a number of advantages in terms of meeting our guests' needs, and it supports our primary goal of creating a great customer experience," said MAPCO's Vice President of IT, Kevin Brunger. "As we evaluated all the POS options available on the market, Passport stood out with its grocery-store level functionality, intuitive design and dependable operation. Our staff grasped its operation quickly, and that helps meet our guests' needs for convenience and speed. It also interfaces seamlessly with a variety of cutting-edge technologies while increasing our selling opportunities from forecourt to checkout. In addition to all these benefits, Passport will also allow us to quickly enable EMV, both inside the store and on our forecourt," concluded Brunger.
In addition to its choice of the Passport POS System, MAPCO also optimized its forecourt by upgrading to EMV-enabled Encore 700S fuel dispensers. To increase operational efficiency, both the Passport POS System and Encore dispensers will be accessible for remote management with Gilbarco's cloud-based, Insite360 Passport and Insite360 Encore respectively. Insite360 Passport allows MAPCO to monitor, configure and control the Passport POS System from any location, at any time. Insite360 Passport is compatible with all standard PCs, tablets and phones. Similarly, Insite360 Encore provides 24/7 visibility and connectivity to a site's dispenser performance, as well as to tools that can troubleshoot and resolve dispenser issues remotely. Restoring operation quickly helps maintain and ensure a positive customer experience.
"As one of the industry's leading retailers, MAPCO has ambitious and innovative plans to grow its business. We're excited to deepen our partnership with MAPCO and facilitate its growth by helping it effectively leverage Gilbarco's Passport POS and Insite360 across its entire network," said Eric Bagden, Director of Retail Solutions, Gilbarco.
Conversion to the Passport POS System, for the first 40 sites, is slated to start in May. Remaining sites will be converted during the summer with the full conversion expected in November 2018.
Visit Gilbarco Veeder-Root's Learning Center for additional information on its Passport POS and Applause Media Systems, Insite360 Passport and Encore remote management, and EMV-related products at: https://d9dev.gilbarco.com/us/products/c-store-solutions
About MAPCO
MAPCO has 346 corporate-owned convenience stores operating primarily in Tennessee, Alabama, and Georgia with additional presence in Arkansas, Virginia, Kentucky, and Mississippi. Owned by COPEC, a South American-based retail company, MAPCO operates company stores under the banners MAPCO Express, MAPCO Mart, Fast Food and Fuel, Favorite Markets, Delta Express, and Discount Food Mart. For more information about MAPCO, please visit www.mapcorewards.com.
About Gilbarco Veeder-Root
Gilbarco Veeder-Root is the worldwide technology leader for retail and commercial fueling operations offering the broadest range of integrated solutions from the forecourt to the convenience store and head office. For over 150 years, Gilbarco has earned the trust of its customers by providing long-term partnership, uncompromising support and proven reliability. Major product lines include: fuel dispensers, pump media, point-of-sale systems, payment systems, tank gauges, software development and integration, fleet management systems, and nozzles.