Gilbarco Veeder-Root's After Market Operations Team announces Pathfinder™, a new online resource for Technicians and Distributors.  The new tool leverages technology to make ordering spare parts easy.  Designed to simplify the ordering process, Pathfinder ™ uses a Dispenser's serial number and a 3D rendering or Serial BOM search to identify spare parts and quickly create an accurate parts list.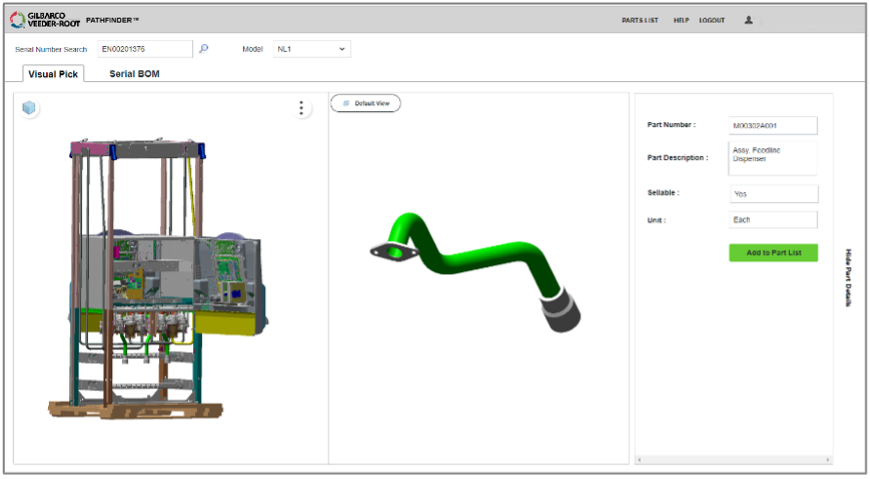 Technicians can focus on repairs, and procurement receives a detailed parts list.  In addition, C-Stores will benefit from quicker and fewer return service calls.
"The time savings for our customers will be significant," said Jason Wright, General Manager, Gilbarco - After Market Operations.  "Pathfinder helps users identify spare parts and quickly create an accurate order list, putting an end to the hours they spend researching parts." 
Pathfinder offers multiple benefits to Distributors, Technicians, and C-Stores:
Technicians
·       Easy part identification means Technicians can focus on repairs
·       Quicker, more productive service calls
·       Eliminates return service calls due to ordering the wrong part
 Procurement
·       An accurate parts list makes ordering more efficient
·       Reduces the need for support from Gilbarco Customer Service
·       Decreases the time and cost of returning the wrong parts
·       Improves inventory control
Retailers
·       Less downtime
·       Fewer return service calls
Pathfinder™ is now available to Gilbarco Distributors and ASCs through a subscription program.  Click here to talk with a Genuine Parts Specialist. 
Connect with a Genuine Parts Specialist