America's fourth largest beverage supplier is charging toward an all-electric fleet with the help of Gilbarco Veeder-Root.
Manhattan Beer Distributors unveiled its fleet of Volvo VNR electric trucks at their South Bronx facility last week. These vehicles represent Volvo's first shipment of VNR trucks on the east coast. The move to EV is part of Manhattan Beer's plan to create an emissions-free fleet.
Gilbarco Veeder-Root's e-Mobility team advised the beverage supplier through the electrification process and designed strategies to make the most efficient charging infrastructure possible for their specific use case.
"We're excited to have been able to work closely with Manhattan Beer to ensure the successful roll-out of the Volvo VNR electric truck and we look forward to continuing to advance the cause of clean transportation," said Allen Goetz, e-Mobility Fleet Market Development Manager.
Gilbarco Veeder-Root helped Manhattan Beer select the right chargers for the job. In this case, the most efficient choice was using DC fast chargers (DCFC). The team also worked to determine the length of routes and other variables that could affect charging times. All those considerations were developed into a tailor-fit solution that integrated seamlessly with the fleet's daily demands.
Using 75 kW DC fast chargers, Gilbarco Veeder-Root's e-Mobility team designed a system that can charge a VNR truck battery to 80% in three hours. Each charger can also charge two trucks at once, using 50 kilowatts for one and 25 kilowatts for the other – allowing for maximum operational flexibility. Using this configuration along with Volvo's VNR trucks, Manhattan Beers' longest haul can be completed twice before needing to stop for a charge.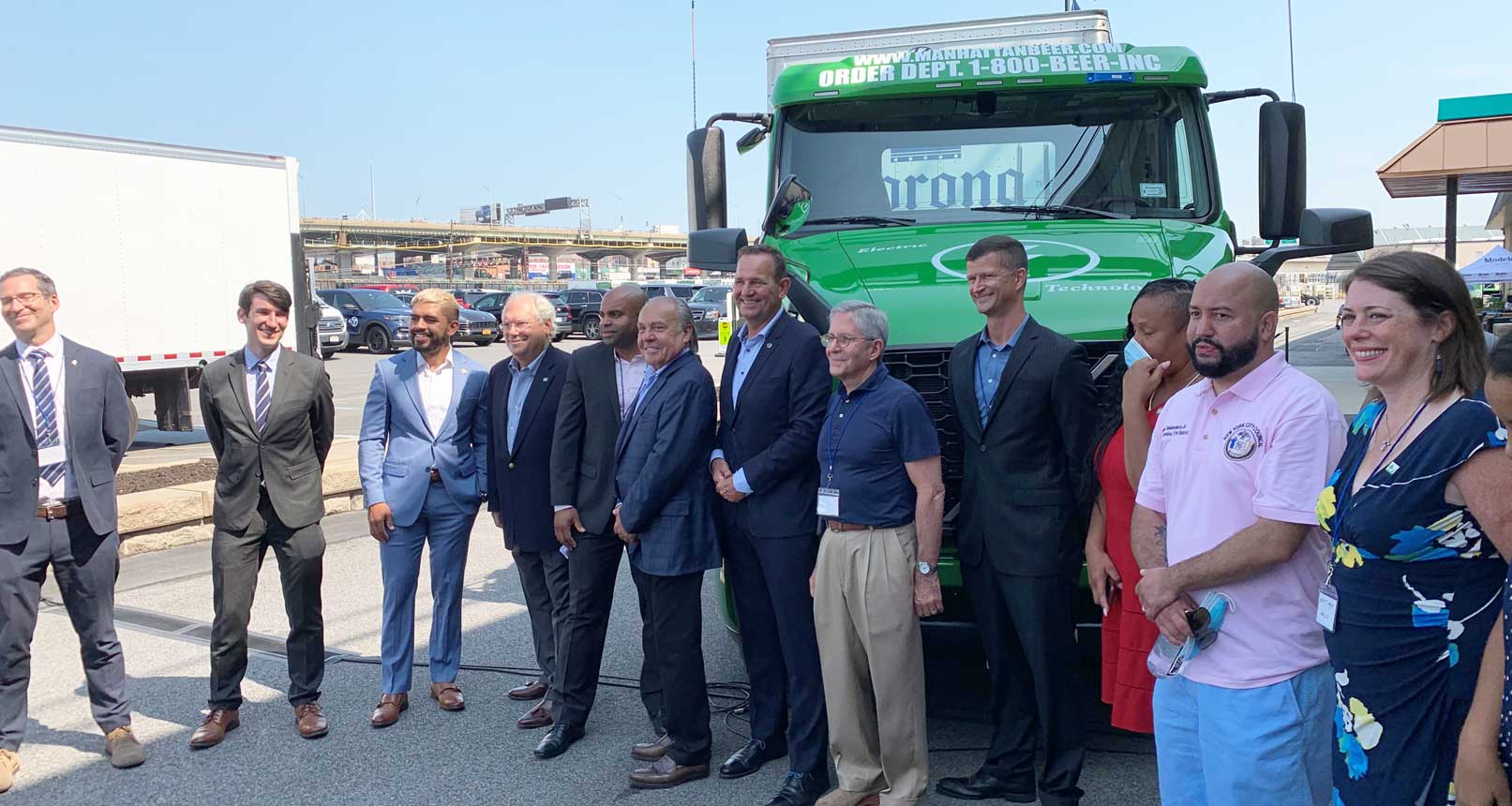 "When it comes to fleets, we know each operation is unique with specific requirements," Goetz said. "We determined that Manhattan Beers needed DC fast chargers, but another fleet may have different needs. That's where Gilbarco Veeder-Root's decades of experience with fleet fueling becomes invaluable."
DCFC's are just one piece of Gilbarco Veeder-Root's growing e-Mobility platform. Other chargers may better suit the needs of certain fleets. For example, the Amps2Go Series F19 Level 2 charger is suitable for larger vehicles with long off-duty periods like school buses.
With 90% of fleet operators preparing for an EV future, now is the time to begin planning charger infrastructure.
Ready to get started? Contact our e-Mobility team today!