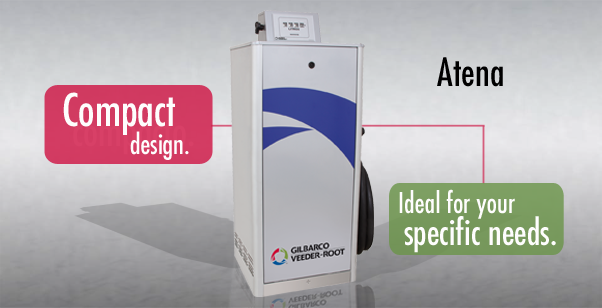 The ATENA Fuel Pump is specifically designed for commercial and industrial use, transportation companies, companies and other establishments which need a dependable fuel pump suited for locations where a supply of electrical energy is not reliable.
This fuel pump is available in 50, 75, 90 or 150 lpm flow rates, and provides high performance and durability.
Know more about the Atena Fuel Pump and its features.
Certified by UL Brazil and approved by Inmetro, the ATENA FUEL PUMP is assembled with international quality components and is subject to strict testing requirements which guarantee perfect operation. This fuel pump also provides low operational costs and maintenance due to a highly resistant structure which will deliver long-term service. Another advantage of this system is the easy access to hydraulic components, which simplifies maintenance and reduces downtime.
If you need a fuel pump which offers all these benefits and is simple to use and install, the ATENA FUEL PUMP is perfect for your business needs.
Know more about Atena Fuel Pump and its main features.
ATENA FUEL PUMP MAIN FEATURES
MECHANICAL REGISTER
Mechanical register with counter, manual reset to zero and non-resettable accumulative totalizer.
Registers exclusively in liters.
HYDRAULICS
Compact (monoblock) ST-UBE model gear pump with built-in air elimination valve. Contains 2 stainless steel mesh filters and 2 chambers for separating air and gases, providing steady pumping and accurate measurement of fuel flow.
Gilbarco C+ meter with mechanical calibration and 4-piston positive displacement design with stainless steel bushings which increase the meter durability.
High precision solenoid valve for preset operations.
Explosion-proof 1 HP triphase electrical motor, 220/380 VAC, 60 Hz. Other options available.
Motor designed for continuous operation (ventilated location).
Explosion-proof electrical box with cable fasteners.
Improved hydraulics: reduced number of electrical connections and wires.
The 50 lpm, 75 lpm and 90 lpm models may be manually operated in case of power failure.
50 lpm flow rate model: automatic nozzle and 3/4" bushing.
75 lpm, 90 lpm and 150 lpm flow rate models: automatic nozzle and 1" bushing.
Hose length: 5 meters.
CABINET
Cabinet and side panels fabricated from extremely durable anodized aluminum. This durability is crucial for coastal areas where corrosion from sea mist is a serious risk.
Strong and sturdy, with no welding points to reduce corrosion, and rounded corners, providing longer life to the hoses.
Powder-coated finish reduces risk of defects in the paint and provides outstanding appearance and toughness.
Highly resistant nozzle boot.
Hose hanger keeps hose off island.
ATENA FUEL PUMP MODELS

HG = Medium Flow, AV = High Flow
Dimensions PHX-111-IM and PHX-111-IM-HG: fuel pump 1.45 x 0.60 x 0.60 m, package 1.52 x 0.80 x 0.77 m (HxWxD)
Dimensions PHX-111-IM-AV: fuel pump 1.37x 0.82 x 0.50 m, package 1.52 x 1.14 x 0.74 m (HxWxD)

The success of your business must be supported by solutions and technologies at your fingertips. You need a partner. Someone who listens to you. Someone who can meet your needs, your customers' needs, and your financial needs. We have all the products and services you are looking for. Count on us to help you and contact us for further information .
Gilbarco Veeder-Root reserves the right to change one or more specifications of its fuel pumps with no prior notice whenever improvements are made. Be sure to check the current product specification at the time of purchase.
Brochures:
Certificates:
External Dimensions (Portuguese):
Floorplans (Portuguese):