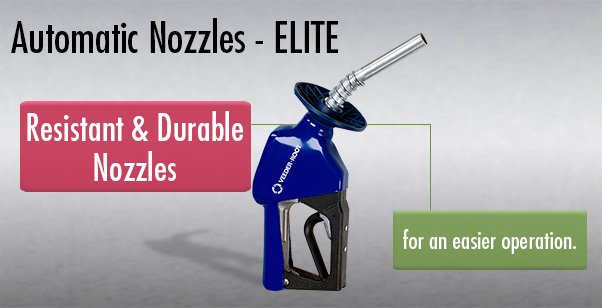 The series of automatic nozzles estabilishes a new standard for vehicle refueling. The lightweighted construction produces a smooth working, rugged nozzle designed for endurance.
The automatic ELITE Veeder-Root nozzles allow a safer operation, having a mechanism which is triggered automatically when the supply pump is stopped, allowing greater security during the process and preventing leakage during refueling.
Go now to www.veeder.com.br, the new exclusive Gilbarco Veeder-Root Accessories website! Get your Veeder-Root accesory wih a click!
Authorized by Inmetro, accordin Portaria Inmetro/Dimel 0190/11, the automatic ELITE nozzles present many features that assure a more safe and easy operation, such as:
1 year warranty
Full Cover for added protection in many colors
Automatic shut-off
Opening and Closing triggered by Fuel Pump pressure
Main Technical Features of Automatic Nozzle - ELITE
Thre flow rates speed
3/4" Single Body, sand cast aluminum
Linkage with 3/4" hoses
Normal 18 cm lenght tip
Aluminum Tip
¾" NPT entrance e fine tip
Lever & handguard is Super-Tuff Glass Filled Nylon
O-rings and Seals are Viton
Weight ~ 1,0 kg