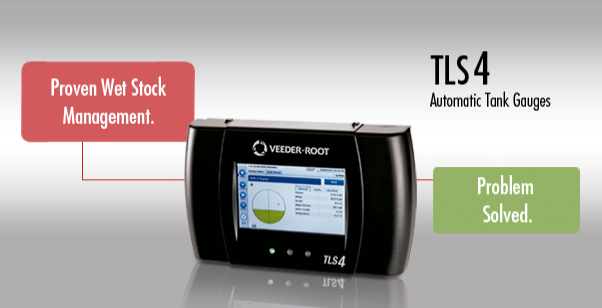 The powerful TLS4 automatic tank gauge helps keep your sites running…and profitable.
The TLS4 combines precision performance with scalability, sophistication, customization and ease of use to deliver proven results.
Proven Precision: The TLS4 automatic tank gauge is the premier wet stock management solution. It delivers accurate, crucial information, including:
AccuChart
Business Inventory Reconciliation (BIR)
Continuous Statistical Leak Detection (CSLD)
Temperature Compensated Volume
Proven Protection: The Veeder-Root TLS4 monitoring system uses sensor, probes and advanced software solutions to deliver accurate wet stock and forecourt information. The TLS4 protects your fuel assets whether you are on-site or with your family.
Web-Enabled Remote Connectivity
Switch Networks
Data Protection
Reduced Risks
Customized User Access
Advanced Sensor Technology
Proven Profit: The compact and powerful TLS4 monitoring system is expandable and extremely easy to use. View, configure and control the TLS4 using the GUI, or at multiple locations using web-enabled, to improve efficiency and save money. High-end features include:
Color Touch Screen
Faster Problem Resolution
Customized Home Screen and Favorites
Customized Alarms
Customer Satisfaction
Future Proof – purchase the TLS4 today and enjoy the option to add additional features later as your business grows or as regulations change.
Proven Partner: Gilbarco Veeder-Root is the global leader in fuel dispenser technology and integrated fueling solutions, from the forecourt to the c-store. We're the industry leader because we truly understand the fueling industry, our customers and what today's business needs demand. No other company delivers our level of expertise and gives customers a competitive advantage in convenience store and gas station equipment. Gilbarco Veeder-Root designs with our customers in mind, relentlessly innovating to create forward thinking, truly-integrated products that work well now and in the future. When you choose Gilbarco Veeder-Root, you're working with the best minds in the business and getting the proven expertise and technology designed to make your life easier and your business more profitable.
Trust the leader. Gilbarco Veeder-Root.
Know more about the automatic tank gauge system TLS4 and its benefits.
Know the main benefits and functionalities of the automatic tank gauge system TLS4.
Fewer and faster service calls through remote diagnostics and customized alarms
Remote or local site management with Direct Access Software, flexible networking options, and email notifications
Cost-effective wet stock management through robust data collection rules, confirming your tanks and lines are tight, and providing convenient wet stock reports on-demand
Flexible and upgrade-ready from advanced processing power and architecture to highly flexible configuration

and remote upgrades

Mistake-proof operation through its intuitive graphical user interface, onboard help function and custom alarm management
TLS4 MAIN FEATURES:
System: TLS4
Inputs: up to 12
Tanks: up to 12
Sensors: up to 12
CSLD Tank Test: Option
Static Tank Test: Yes
Inventory: Stored
BIR: Option
Reports: 3 Yr
Alarms: 3 Yr
History: 3 Yr
Sensor Status: 3 Yr
Email: Built-in
Universal Sensor Module: Included in base hardware
Phase Separation: Yes
Density: Yes
Storage Temperature Range: 4°F to 158°F (-20°C to 70°C )
Operating Temperature Range: 32°F to 109°F (0°C to 50°C)

The success of your business must be supported by solutions and technologies at your fingertips. You need a partner. Someone who listens to you. Someone who can meet your needs, your customers' needs, and your financial needs. We have all the products and services you are looking for. Count on us to help you and contact us for further information .
Gilbarco Veeder-Root reserves the right to change one or more specifications of its products with no prior notice whenever improvements are made. Be sure to check the current product specification at the time of purchase.
The TLS4 tank gauging and environmental monitoring systems are Veeder-Root products.
Veeder-Root is a trademark of Gilbarco Veeder-Root.