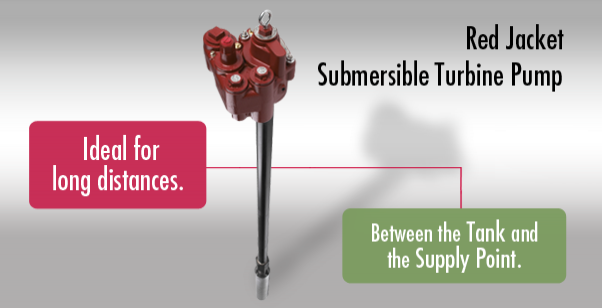 Do you know the RED JACKET Pump and its advantages?
Red Jacket is a submersible turbine pump used in pressure fueling systems where the pump is installed inside the fuel tank.
The submersible pump is the ideal equipment supply lines use with long distance between the fuel tank and the fueling point in facilities with high heads (high ground level difference and/or long distance) and for applications requiring high flow.
Know more about Red Jacket Submersible Turbine Pump and its technical features.
The RED JACKET Submersible Pump offers several benefits for your business.
The number of lines (pipes) necessary for the submersible pump is smaller compared to suction pumps, what results in simpler installation and consequently lower investment need for both installation and maintenance.
Installation of the Red Jacket also saves time and money, since it is easy to install, saves power consumption and has low maintenance rate over its service life.
Another benefit is that the submersible pump offers a substantial increase in the distance between the tank and the fueling point, providing greater flexibility for the establishment layout.
Red Jacket Submersible Pump offers the best commercial solution for service stations: its high flow rate ensures fast vehicles filling, enabling efficient service to customers.
When connected to a Veeder-Root tank gauging and environment monitoring system, it is possible to turn the submersible pump on and off through the system itself, allowing a rotation of pumps in operation, generating greater energy savings, safety and equipment durability without the need for human intervention.
Know more about Red Jacket submersible pump and its main features.
RED JACKET MAIN FEATURES
Superior project and design, which guarantee high flow, less energy consumption, more safety and reliability.
Advanced pump collector that allows automatic fuel drain, rapid and secure electric connection and less elevation force, enhancing local and environmental safety.
Check valve and collectors projected in order to assure more an easier way to make tests and maintenance of the supply line.
Design available for 100% ethanol or methanol concentrations
RED JACKET PUMP MODELS
Nominal Flow: 600 lpm to 1,000 lpm available: 3/4 HP, 1.5 HP or 2 HP.
Available Horsepower:
3 HP, 60 Hz, 230 V, 3 phases
5 HP, 60 Hz, 230 V, 3 phases
5 HP, 60 Hz, 575 V, 3 phases
Certifications: UL, cUL, ATEX En 15268
Projected for hazardous areas:
Class 1, Group D Atmospheres
Tube Length – Available adjustment ranges:
RJ 1 = 74.5" – 105" (admits 1 ½ HP)
RJ 2 = 104.4" – 165
RJ 3 = 164" – 225
Siphon Port: 2 available, 1/4" NPT vacuum generated up to 25 in Hg
Fuel Compatibility:
100% Diesel
100% Gasoline
80% Gasoline with 20% MTBE, ETBE, or TAME
0-100% Ethanol
0-100% Methanol
Line Pressure Port: 1 Available, 1/4" NPT
Vent Port: 1 Available, 1/4" NPT

The success of your business must be supported by solutions and technologies at your fingertips. You need a partner. Someone who listens to you. Someone who can meet your needs, your customers' needs, and your financial needs. We have all the products and services you are looking for. Count on us to help you and contact us for further information .
Gilbarco Veeder-Root reserves the right to change one or more specifications of its products with no prior notice whenever improvements are made. Be sure to check the current product specification at the time of purchase.
The Red Jacket pump is a Veeder-Root product.
Veeder-Root is a trademark of Gilbarco Veeder-Root.