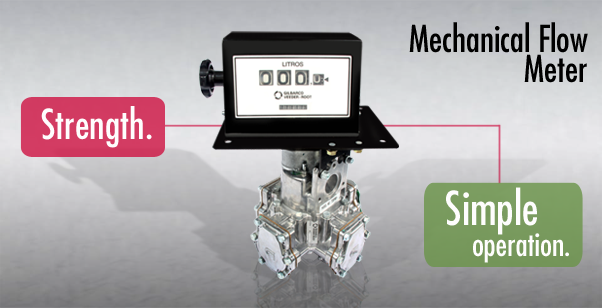 The Mechanical Flow Meter is used to measure and control the consume of gasoline, ethanol, diesel and kerosene. Other liquid fluids on request.
MAIN TECHNICAL FEATURES
Maximum outflow: 90 lpm
Minimum outflow: 5 lpm
Maximum operation pressure: 0.20 Mpa
Operation temperature: 0°C to 40°C
Weight: 9.5 kg
C+ Meter
Built in aluminum.
Gilbarco C+ meter with electronic calibration and 4-piston positive displacement design with stainless steel bushings which increase the meter durability.
The viton rings present in the 4 cylinders caps provide superior sealing compared to the joint sealing usually employed in pump meters from different suppliers.
Liter Counter
Register: with highly visible 4 large digits, 3 wheels with black figures on white background and 1 wheel with white figures in black background. The right wheel has 50 grading.
Maximum capacity of 999.9 liters.
Totalizer (tank gauge): 6 digits, that accumulates up to 99,999.9 liters.
Readings in liters and tenths.
Maximum speed of 90 lpm.
Zero start.
In Brazil, approved by Inmetro Ordinance 82/76 for non-commercial transactions.

The success of your business must be supported by solutions and technologies at your fingertips. You need a partner. Someone who listens to you. Someone who can meet your needs, your customers' needs, and your financial needs. We have all the products and services you are looking for. Count on us to help you and contact us for further information .
Gilbarco Veeder-Root reserves the right to change one or more specifications of its products with no prior notice whenever improvements are made. Be sure to check the current product specification at the time of purchase.
The Mechanical Flow Meter is a Veeder-Root product.
Veeder-Root is a trademark of Gilbarco Veeder-Root.