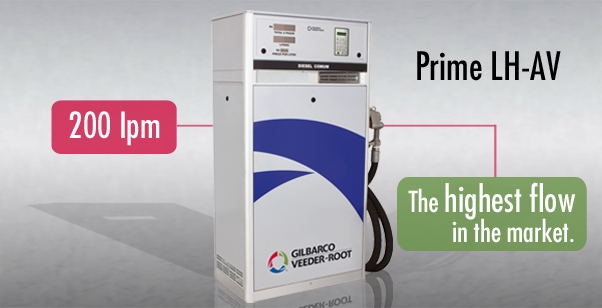 PRIME LH-AV is a low hose fuel pump for service stations with a maximum flow of 200 lpm, the highest flow rate in the market!
This fuel pump is perfect for filling up heavy vehicles. Its high flow rate and state-of-the-art technology provide quick service, what makes a huge difference in attracting and keeping customers looking for fuel along the highway.
The Prime LH-AV Fuel Pump employs the same intelligent technology as the Prime HH high hose fuel pump models, but does not offer the benefits of technological upgrades available through the use of optional accessories.
This fuel pump provides high performance and durability, offering operational ease and handling with accurate control. It also is supplied ready for integration with an automation system.
Know more about the Prime LH-AV Fuel Pump and its features.
Certified by UL Brazil and approved by Inmetro, the PRIME FUEL PUMPS SERIES is assembled with international quality components and is subject to strict testing requirements which guarantee perfect operation. Prime Fuel Pumps also provide low operational costs and maintenance due to a highly resistant outer structure which will deliver long-term service. Another advantage of this system is the easy access to electrical and hydraulic components, which simplifies maintenance and reduces downtime.
The Prime Fuel Pumps Series was designed for gas station use and offers various models. Which model is the right one for you?
If you need a fuel pump which combines all advantages of the Prime Fuel Pumps with state-of-the-art technology, ready to be integrated with an automation system, and offers an extremely high flow rate which will certainly satisfy your customers, PRIME LH-AV FUEL PUMP is the right choice for your service station.
Know more about Prime LH-AV Fuel Pump and its main features.
PRIME LH-AV FUEL PUMP MAIN FEATURES
ELECTRONICS
State-of-the-art computer with integrated CPU and interface.
CPU capable of managing 6 communication channels. Included is standard current loop for automation and an optional RS-485. Other communication options for peripherals available.
Recording of last 54 fillups.
Recording, with date, of last 54 adjustments (electronic calibration).
Recording of the electronic totals and period totals in terms of amounts and liters.
Various messages concerning operational errors displayed in Price Per Liter (PPL) display.
Flow rate displayed in Liter display.
Internal clock with 10 year lifetime.
Contains 2 totalizers: one electronic and one electromagnetic for each nozzle of product for double checking.
1" liquid crystal display for increased visibility of readouts.
Keyboard in stainless steel with 18 keys for management programming. Alphanumeric display in the PPL display indicates programming functions and error messages. NOTE: this fuel pump model does not offer preset option.
HYDRAULICS
ST-UBP-210 model pump, on pallets.
ST-MED-210 model lobular rotary pump, which provides electronic calibration.
Tamper-proof Pulser attached to the head of the measuring block to assure fuel measurement accuracy.
Explosion-proof 3 HP triphase electrical motor, 220/380 VAC, 60 Hz with cable fasteners. Other options available.
Explosion-proof 1 HP triphase electrical motor, 220/380 VAC, 60 Hz. Other options available.
Motor designed for continuous operation (ventilated location).
Explosion-proof electrical box with cable fasteners.
Automatic nozzle and 1 1/2" bushing.
Hose length: 5 meters.
CABINET
Cabinet and side panels fabricated from extremely durable anodized aluminum. This durability is crucial for coastal areas where corrosion from sea mist is a serious risk.
Strong and sturdy, with no welding points to reduce corrosion, and rounded corners, providing longer life to the hoses.
Powder-coated finish reduces risk of defects in the paint and provides outstanding appearance and toughness
Highly resistant nozzle boot.
Hose hanger keeps hose off island.
PRIME LH-AV FUEL PUMP MODELS

Fuel pumps dimensions: 1.57 x 0.82 x 0.50 m (HxWxD)
Package dimensions: 1.76 x 1.14 x 0.74 m (HxWxD)

The success of your business must be supported by solutions and technologies at your fingertips. You need a partner. Someone who listens to you. Someone who can meet your needs, your customers' needs, and your financial needs. We have all the products and services you are looking for. Count on us to help you and contact us for further information .
Gilbarco Veeder-Root reserves the right to change one or more specifications of its fuel pumps with no prior notice whenever improvements are made. Be sure to check the current product specification at the time of purchase.
Brochures:
Certificates:
External Dimensions (Portuguese):
Floorplans: