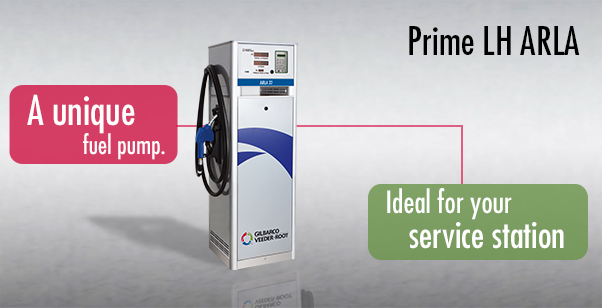 The Prime LH-ARLA Dispensers for commercial use are indicated for the commercialization of Arla32, designated for for use in service stations, and is is available with a nominal flow of 40 lpm.
The Prime LH-ARLA Dispensers present high performance and durability as well as advanced technology and features that make a difference in the fueling handling and supply control. They are also prepared for integration with an automation system, using the same protocol pumps / dispensers of liquid fuels.
Learn more about the Prime LH-ARLA and its benefits.
The main advantage of the new product is its durability, due to parts of the equipment and its meter being fabricated in stainless steel, which is highly resistant to the corrosion caused by ARLA 32, preventing product contamination and assuring the regularity in the fueling process and less needed maintenance. The anodized aluminum also protects the outer parts against corrosion, especially in coastal areas exposed at atmospheric salinity.
Another key differential point of Prime LH-Arla dispensers are the displays on both sides, indicating the flow liters. The flow rate of the Prime LH-Arla dispenser is 40 lpm. The dispenser uses hose of 5m x ¾ ', specific to ARLA 32 and an automatic nozzle ¾' with fine tip, also specific for ARLA 32. It has connections, check valve and filter at the entrance, all in stainless steel. Hydraulics are optimized with few connections and electric cables. Its design allows it to be used alongside a Diesel dispenser, reducing installation costs and enhancing the operation efficiency in each fueling.
It has two totalizers, one mechanical and one electromechanical. Internal clock with battery life of 10 years, the last 54 log supplies and the last 54 settings, with dates.
The dispensers Prime LH-Arla are also prepared for integration with automation system, using the same protocol pumps / dispensers of liquid fuels.
Learn more about Prime LH-ARLA and its technical characteristics
PRIME LH-ARLA MAIN FEATURES
Electronics
High-tech computer with CPU and integrated interface.
Standard loop interface of electric current for automation and, optionally, RS-485. Other communication options for peripherals on request.
Recording of the last 54 supplies
Dated registration the last 54 adjustments (electronic calibration).
Registration of electronic totals and the value and liters turn total.
Indication of several pump operation fault messages on the price per liter display (PPL).
Flow indication in Liters display.
Internal clock with battery life of 10 years
Contains two totalizers one electronic and one electromechanical.
LCD display 1 "that facilitates the reading of the data
Stainless steel keyboard with 18 keys and selector switch dual function, for management programming or predetermination. It has alphanumeric display to indicate the programming and reading failure informed PPL display.
Hidraulycs
Unidirectional mass flow meter by Coriolis effect with excellent accuracy and repeatability.
Low calibration index.
No moving parts (no wearing or friction of internal parts) and no possibility of internal leak.
Vertical installation, resistant to water hammer.
Calibration (if necessary) held in Electronic Dispenser with no contact or intervention on the meter.
Solenoid valve in stainless steel dual-stage, with high degree of accuracy in predetermination operations.
Optimized Hydraulic: reduced number of connections and cables.
Connections and check valve in stainless steel.
Stainless steel filter at the entrance of the Dispenser.
5m x ¾ " hose, specific to Arla32.
Automatic nozzle ¾ "and specific thin tip to Arla32.
Cabinet
Finishing panels in painted aluminum offering excellent durability and strength.
Anodized aluminum enclosure, which has strong resistance against time shares. This resistance is even more relevant to the coastal regions, where the probability of corrosion is greater due to atmospheric salinity.
Robust free solder points - which minimizes corrosion - and rounded corners that extend the useful life of the hose.
Guard-nozzle high strength.
Mandatory Requirements/strong>
Nobreak installation to the electronic head of the Dispenser.
Nobreak Spec: Output voltage 220 VAC. Wave type in the output: Purely Sine (can't be square wave).
Specs Summary
Power Supply: 220 VAC – 50/60 Hz
Electronic Head consumption: 103 VA
Flow Rate: 40 lpm
Maximum input and operating pressure: 0.27 Mpa
Maximum pressure with hydraulic stroke: 1.17 MPa
Hydraulic Entrance: ¾" BSP. For details, see Diagram foundation

Fuel Pump Dimensions dispenser 1,57 x 0,50 x 0,50 (HxWxD, in meters)
Package Dimensions:1,76 x 0,80 x 0,77 - (HxWxD, in meters)

The success of your business must be supported by solutions and technologies at your fingertips. You need a partner. Someone who listens to you. Someone who can meet your needs, your customers' needs, and your financial needs. We have all the products and services you are looking for. Count on us to help you and contact us for further information.
Gilbarco Veeder-Root reserves the right to change one or more specifications of its fuel pumps with no prior notice whenever improvements are made. Be sure to check the current product specifications at the time of purchase.