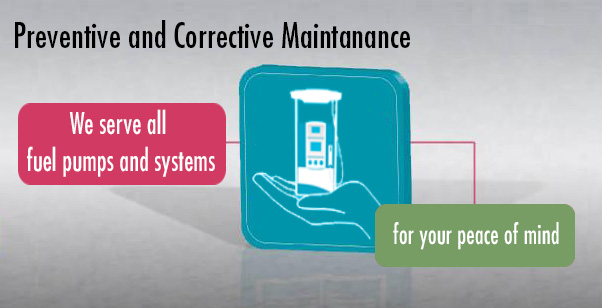 Preventive maintenance is the best way to ensure proper operation of your fueling pumps, avoiding trouble and financial losses due to sudden stop of one or more nozzles. Making a simple comparison, your fueling pump is like a car that needs periodical maintenance inspection for wear and tear parts adjustment. During the preventive maintenance, one of our specialized technicians inspects your fuel pump on the scheduled date(s).
The Corrective Maintenance is needed when an item of your equipment presents any trouble, or stops working for some reason. For the corrective maintenance, one of our specialized technicians goes to your service station within the assistance timeframe established for your region.
Gilbarco Veeder-Root offers 4 distinct packets of extended warranty (that can also be acquired for equipments outside the warranty period), for one or two years, which contain the preventive and corrective maintenances, including or not spare parts, so you can choose the best option according to your needs.
Extended Warranty (Premium and FIT packages), one or two years.
Individual Contract (Premium, Light and FIT packages).
Preventive (with or without spare parts).
This service is performed by Gilbarco Veeder-Root own factory technicians, and, for now, is available for customers located in Rio de Janeiro, São Paulo, Maranhão and Bahia. The attendance deadline is up to 24 hours for capitals, and 48 hours for country sides.
Our team knows that the faster the assistance, the lesser possibilities to get losses. Contact with our Call Center or your Distributor Call Center and request the preventive/corrective maintenance for your equipment.


The success of your business must be supported by solutions and technologies at your fingertips. You need a partner. Someone who listens to you. Someone who can meet your needs, your customers' needs, and your financial needs. We have all the products and services you are looking for. Count on us to help you and contact us for further information .
Veeder-Root is a trademark of Gilbarco Veeder-Root.