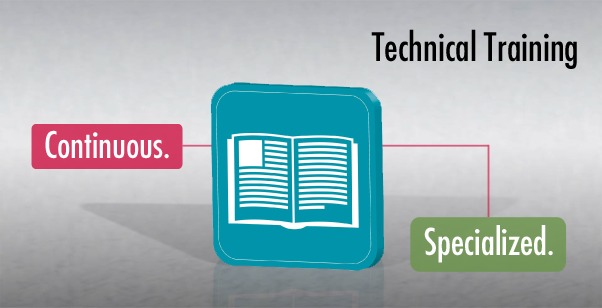 TECHNICAL TRAINING IN GILBARCO VEEDER-ROOT FUEL PUMPS AND VEEDER-ROOT TANK GAUGING AND ENVIRONMENTAL MONITORING SYSTEMS
We have made heavy investments in physical, technological and human resources to make our Technical Training Center a reference in professional qualification for maintenance of Gilbarco Veeder-Root fuel pumps and Veeder-Root tank gauging and environmental monitoring systems.
Our Technical Training Center is equipped with a laboratory and workshop structure with teaching resources and provides technical updating and improvement to maintenance professionals.
Our objective is to promote knowledge on our equipment for field technicians retraining, providing equipment, tools, components and supplies that facilitate knowledge and improve qualification of the professionals working in that area.
Safety and Environmental Concern
Given their priority, safety and environment are topics addressed during our training sessions.
As our trainers have deep knowledge on these subjects, we also offer field technicians an opportunity of improvement in those areas, increasing their professional growth opportunities to work in our market segment.
For further information, contact us right now:
(11) 2404-8600.

The success of your business must be supported by solutions and technologies at your fingertips. You need a partner. Someone who listens to you. Someone who can meet your needs, your customers' needs, and your financial needs. We have all the products and services you are looking for. Count on us to help you and contact us for further information .
Veeder-Root is a trademark of Gilbarco Veeder-Root.