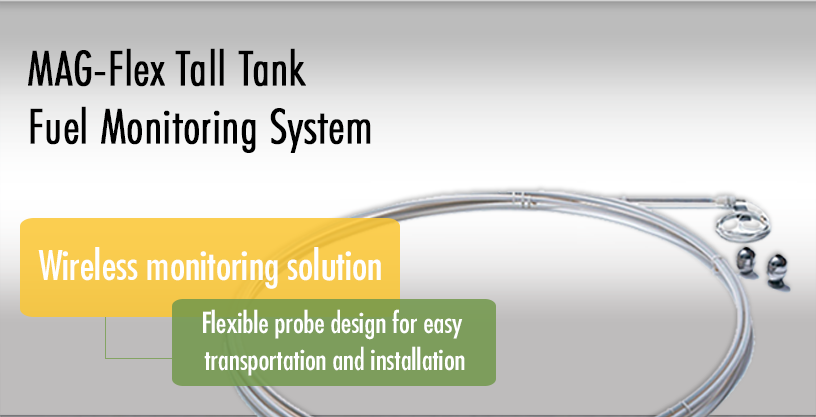 The TLS MAG-Flex is specifically designed for monitoring aboveground storage tanks. This wireless monitoring solution can be matched with any Veeder-Root automatic tank gauge to create a powerful, affordable inventory management system backed by the broad support network and reliability of Veeder-Root. This aboveground solution delivers accurate reconciliation of your most expensive on-site assets without the need to climb to your tank to determine inventory levels.
It´s the ideal solution for fuel distribution depots, marine terminals, aviation fuelling installations and many other facilities where fuels are stored in bulk.
The Mag-Flex is immune to problems that most technologies can experience: it reliably measures low dielectric petroleum products and reliably determine the product/water interface.
Key features:
Uses wireless communication for easy installation and monitoring
Supports aboveground tanks up to 54-feet tall
Provides a single point of monitoring for aboveground and underground storage tanks through one tank gauge console
Save on installation with wireless technology (RLD-RF Wireless 2)
Key benefits:
Single point of monitoring for UST and AST sites. Site owners can now monitor both their underground storage tanks (USTs) and ASTs on a single TLS console
Optimize site configurations with a scalable TLS portfolio. Veeder-Root offers a wide range of consoles to best suit the various AST site configurations
Save installation time and cost with wireless technology. The TLS-RF Wireless 2 Kit reduces installation time and eliminates costly wiring from the tank to the TLS console
Rely on field-proven digital magnetostrictive technology (now in a flexible probe design). Flexible probe design makes transportation and installation easy
Accuracy. The probe has the accuracy of 0.01% of full insertion length and has sensors that provide fuel temperature and temperature-compensated volume readings
Electronics. The probe electronics are integrated into a 5/8" diameter sensing tube made of polyvinylidene fluoride (PVDF)
Power Requirement: 5.4 V Maximum, Lithium Ion Batteries
Probe Length: Up to 54'
Probe Material: Flexible PVDF
Enclosure Rating: PVDF Probe: IP68, Transmitter: IP54
Level Resolution: 0.001"
Accuracy: 0.01% of full insertion length
Temperature Resolution: 0.1°F
Temperature Accuracy: 1°F
Operating Temperature: -40°F to +140°F
Temperature Measuring: -40°F to +122°F
Null Zone: 12"
Dead Band: 6"-15" (varies per probe length)
Hazardous Area Approvals: FM, ATEX
Transmitter Type: Frequency Hopping
Transmitter Frequency Range: 900 MHz
Minimal Fuel Height: 7"-19" (varies per probe length)
Fluid Compatibility: Gasoline, Alcohols, Ethanol, Aviation Gas, Kerosene, Jet Fuel, Motor and Lubricating Oils, Transmission Fluid, Diesel, Used Water, Glycol
Documents in English:
Documents in Spanish: