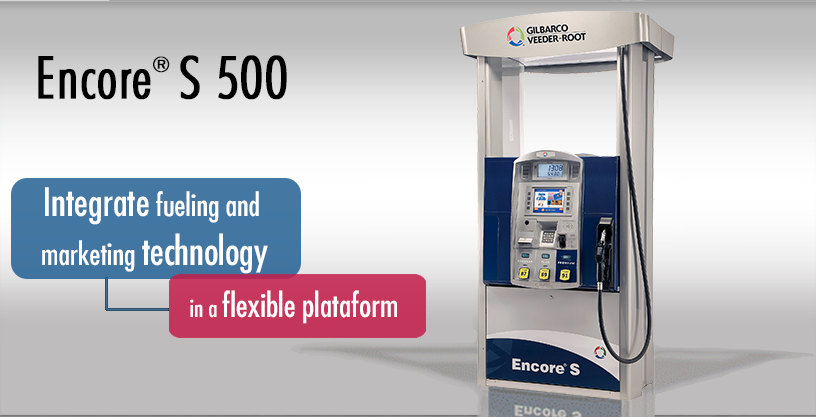 The Encore® 500 S pump and dispenser product line is the perfect solution for sites with special focus on customer experience, by offering the best technology, and guaranteeing maximum customization for your site´s specific needs. This solution comes as a result of the most extensive global consumer market research ever conducted on retail fuel dispenser owners.
Encore® 500 S pumps & dispensers offer new marketing concepts using leading edge technologies to help you stay ahead of changing market needs.
Always focused on providing the most competitive advantages with the latest technology, Encore 500 S is designed to be a growth platform for your ever-expanding business needs.
Why choose Encore S?
Gilbarco Veeder-Root's Encore® S is the leading fuel dispenser for good reason. It's the best choice for your business success thanks to its quality, security, flexibility and connectivity. The high-quality, durable design provides reliable performance and enduring attractiveness, even in extreme conditions
The Encore 500S provides an intuitive and centralized interface, which allows fast transactions, and improves customer service. Integrate Fuel Dispensing technologies, Point of Sale and Marketing solutions, enabling you to create global solutions for your business administration.
The pumps & dispenser´s improved security, showing exactly to the customers how much they spend, while reducing possible losses cause of variance. Its security unique software "No Pulse-No Flow" guarantees confidence in your dispensing, avoiding accidents and leaks.
Encore 500S´s design and unique esthetic attracts customers and improves loyalty. The bezel and column´s design optimization, inspires confidence, provides more comfort and visibility. The Canopy Brand View and the graphics area provide flexible branding areas for customizable graphics, which improves your brand´s image.
Get to know all Encore 500S´s optional accessories.
Standard Features:
1-year warranty including labor
2-year corrosion protection
Progressive lighting cues
No pulse, no flow
Hidden security clasp for pad lock
Angled hose outlets
LED display lighting
5.7" monochrome screen
Optional:
5 digit PPU
Forecourt merchandising with Applause™ TV or Applause Media System
Bar code scanner
Brand view canopy
ISD ready for balanced vapor recovery
Rounded and rectangular canopies
Ultra-Hi Fuel Flow
Multiple product high-hose pump and dispensers (one grade/three grade)
10.4" color screen
Contactless card reader
FlexPay™ Encrypting PIN Pad (EPP) *
FlexPay Secure Card Reader (SCR) *
* under electronic payment integration solution
Documents in Spanish:
Documents in English: