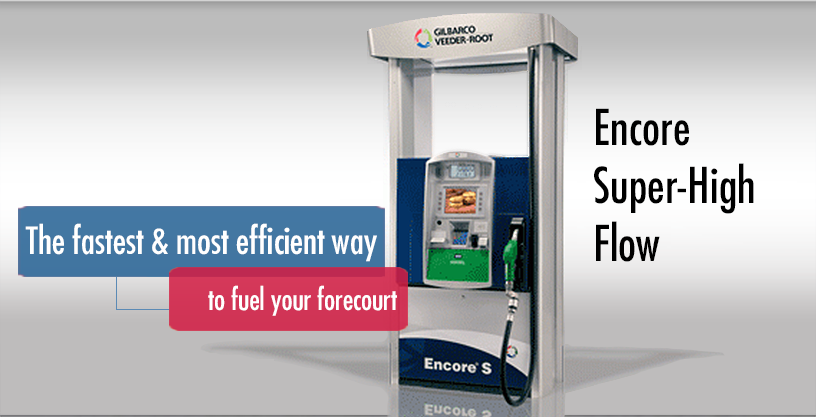 The truck stop environment requires rugged fueling equipment solutions that are both durable and reliable, because time is money to you and your customers.
Gilbarco Veeder-Root's Ultra-Hi flow masters and satellites for retail truck stops are made to last and reduce the amount of time it takes to pump and pay. You can sell more fuel during busy periods at your diesel pumps, and your customers get back on the road faster.
Pump up to 63 gpm* combined flow rate when using a master and satellite simultaneously -- with all the convenience of pay-at-pump. It's the fastest way to pump and pay!
Our Encore® S and Legacy® models combine to offer the most rugged, economical and flexible diesel fueling equipment choices.
* Assumes 30 psi inlet pressure. Flow rate for master and satellite used separately is about 32 gpm each. Actual results may vary.
Flexible choices
The fueling equipment configurations from the Encore® S and Legacy product families are interoperable to provide many options for your fuel island layout. Pair one or two-sided masters with one or two-sided satellites. Or Combo dispensers (master on one side and a satellite on the other) provide a consistent look to your fuel island. You can also use Legacy satellites with Encore masters for an economical solution.
POS & Back Office compatibility
Encore S and Encore S Ultra-Hi masters use Gilbarco SPOT® card reader in dispenser for fast and secure payment at the forecourt. Gilbarco's standard dispenser interface is compatible with your Gilbarco Platino® point of sale system, as well as most third-party point of sale and back office systems.
Easy, modular upgrades
Encore S modular dispenser electronics make it easy to upgrade to new features in the future.
Options
Forecourt merchandising with Applause™ TV or Applause Media System
Bar code scanner
Brand view canopy
ISD ready for balanced vapor recovery
Rounded and rectangular canopies
Ultra-Hi Flow
Multiple product high-hose pump and dispensers (one grade/three grade)
QVGA 5.7" Display
Contactless card reader
FlexPay™ Encrypting PIN Pad (EPP) *
FlexPay Secure Card Reader (SCR) *
* under electronic payment integration solution
Documents in Spanish:
Documents in English: