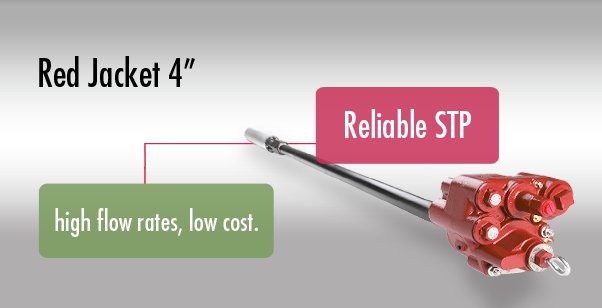 The Red Jacket Standard 4" Submersible Turbine Pump from Red Jacket is the most efficient and silent fuel pump system, improving customer experience at your forecourt.
Our fuel pump system allows for your liquid stock to make greater lengths, this way allowing greater design flexibility for your fueling forecourt. By needing less tubing and less mobile parts than other similar STPs, it minimizes vapor blocks. Its unique design characteristics allow for a simple installation and a quick installation and maintenance.
Red Jacket 4" STPs are available in ¾, 1 ½ or 2 HP, in simple or 3 phase versions and 50/60 Hz reach, to adapt to a wide variety of applications and configurations.
Get to know all of Red Jacket´s product line benefits.
The most efficient way to pump fuel to your forecourt
Maintain optimum flow rates quietly, to enhance customer experience. Pump fuel for greater distances, allowing you to gain flexibility in your forecourt´s design, eliminating vapour lock conditions.
Lower installation and maintenance costs
Through a unique pumping and pipe per tank system, and simpler dispenser configuration means a lower installation cost, infrequent maintenance and less downtime. Your business works without interruption.
Automated environmental risk management
Protect your business against leaks through integrated line leak detection. Line leak detection sensors automatically stop the fueling process when it senses pressure line variation.
Improved safety during installation & maintenance
Unique design features allow for a fast and easy installation & maintenance, minimising risk of contact with high voltage power or fuel hazards and reducing fuel spills.​
Pump fuel efficiently over greater distances at higher temperatures and altitudes.
Integrated line leak detection
Mechanical or electronic line leak detection controlled by TLS monitoring system with automatic shutdown for maximum environmental protection.
Allows easier connection to horizontal pipe work using standard pipe fittings.
Two siphon cartridge ports allow connection to multiple systems. Unique swivel design allows easier connection.
Models
1 or 3 phases
Power
4" horse powers
Line pressure and Vent Port
1 available
¼" NPT
Line leak detection
Automatic tests for substantial leaks - 11.4 litres per hour
Precision tests for substantial leaks - 0.38 or 0.76 litres per hour
Vacuum siphon port
2 available
Vacuums generated up to 25 Hg
Length
Variable Length column pipe
Fixed length available
Adjustment Range
From 77.5" to 225" (Assumes 1.5 HP)
Model
Red Jacket Standard 4"
Red Jacket 4"
Compatibility
Diesel
Petroleum with up to 20% alcohol
Diesel
100% Gasoline
80% Gasoline with 20% TAME, ETBE or MTBE
0-100% Ethanol
0-100% Methanol
Alternative fuels
Flow rate
150 LPM to 330 LPM
150 LPM - 300 LPM
Monitoring applications
Vacuum Sensor siphon
Vacuum Sensor siphon
Atmospheres
Class 1, group D atmospheres
Class 1, group D atmospheres