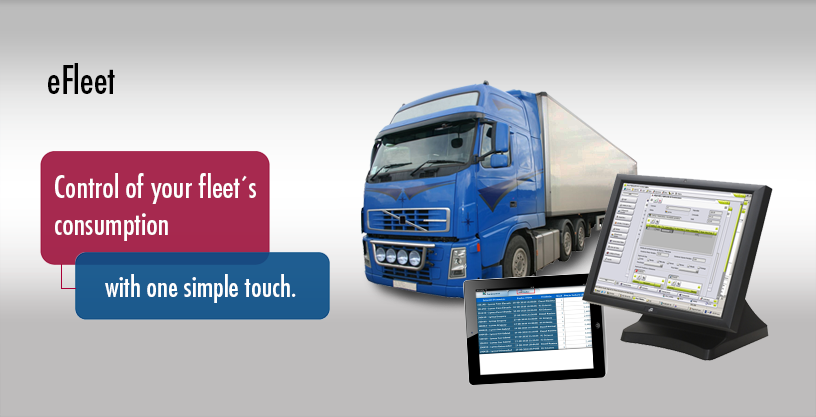 eFleet is a system designed to control fleet vehicles of any kind. eFleet gives you a useful tool to control fuel consumption of vehicles and / or drivers, and allows you to control all your fuel station network, obtaining detailed information (office by office) remotely.
Our solution implements an on-line system mode, where it gives you:
Centralized fleet control
Ease of use restriction configuration
Check live and available consumption.
User-friendly interface.
Communication with CEM pump control system, for direct capture of consumption information.
Quick and efficient reports for your best management
Reduce fraud: through its on-line system, with multiple elements provided for your administration, like the possibility to disable different cards.
Possibility of having cards containing all fleet user information required to operate in a controlled manner.
Defined and customable contingency plan for different types of customers.
Companies can count on daily operation information of their fleet, with account statuses, summaries, and with the benefit of managing their own server, in which you´re the owner of management.
Get fuelling registers of each driver, controlling their limits and restrictions.
Multiple languages
Unified security
Contract administration, driver/vehicle

identification

Unify loading points
Pricing policies for different sites
Surplus price policies: pumping prices
Fleet price policy
Ticket printing
No limit to fleet size
Manage up to 32 loading positions by management core
Identification through magnetic strip cards or Fuel ID Ring installed around the vehicle's fuel tank inlet
Downloadable reports in standard formats
Web access through eFleet Head Office
Optional Web TLS integration
Integration with the industry´s main pump brands