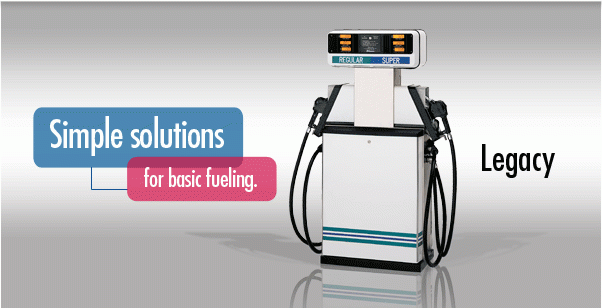 Legacy ® pumps were specifically designed to achieve the greatest benefit for your business by applying our high quality technology at the lowest price. It has improved access to components allowing easier and faster for repair services and less downtime for maintenance.
The electronic Legacy® model allows communications with controllers, cash registers, and computers for complete retail site management.
Key Distinguishing Feature:
Designed for highly reliable service and lower cost of ownership.
Simplified hydraulics
Improved service access
Hydraulic connections reduced by over 50% for fewer potential leak points
Easy-to-read black-on-orange liquid crystal displays.
Electromechanical totalizers.
Hose retrievers.
Gilbarco® patented "fail safe" solid-state pulsers.
Standard Features:
Measurement in US gallons, liters, or Imperial gallons
Gilbarco 'C' meter for standard and high flow models
Gerotor gear pump with passive air seperation system - 3/4 hp motor (self-contained models only)
27-inch locking lower access doors, painted/decal
Lighted face plates
Electro-mechanical totalizers
Liquid Crystal Display (LCD) with orange backlighting
Hose retriever
Liquid Controls® meter for Ultra-Hi models
Programmable for 6 digit money (xxxx.xx)
Options:
Stainless steel lower doors
Visual discharge indicators
Hoses: 12' x 3/4"for standard flow; 12' x 1" for high-flow rate units
Programmable Pump Preset