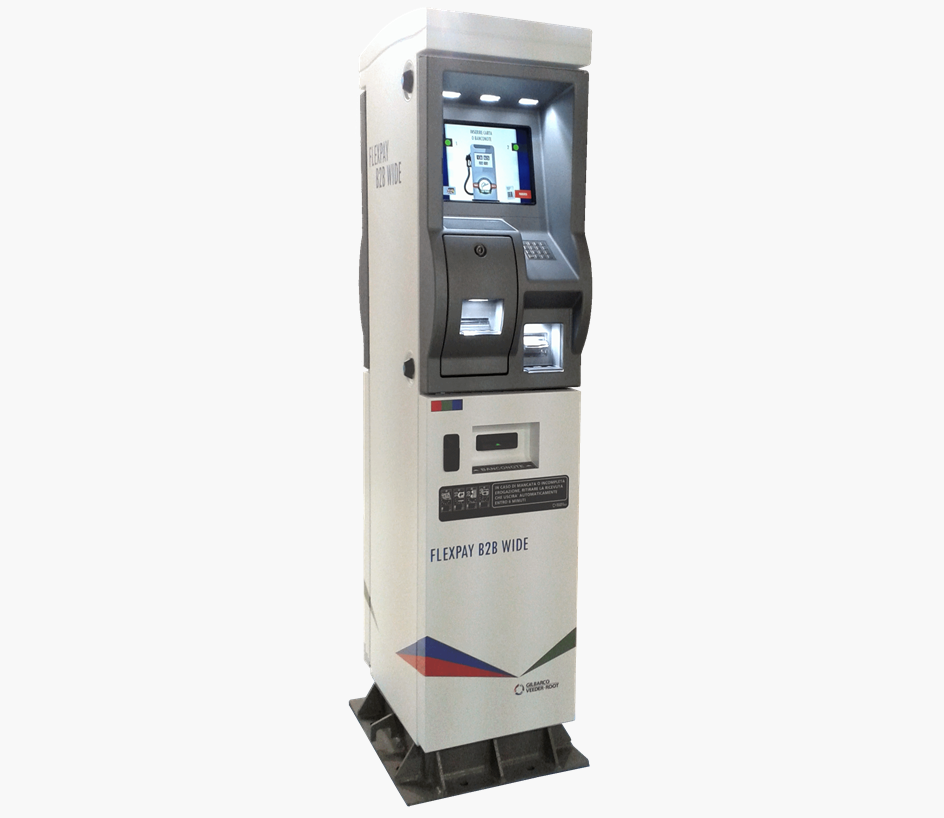 Stylishly designed, double sided with features available for both payment cards and banknotes the FlexPay B2B M7 is the pinnacle of Gilbarco Veeder-Root payment terminal range. The ability to integrate it with any distributor model, for use in manned or unmanned sites makes it flexible and an import terminal for any site that is looking for a highly secure option.
FlexPay Back2Back was the first outdoor payment terminal with two displays on both sides to enable payments with banknotes as well as many other payment options. FlexPay B2B is designed to support both partially manned station models that totally unsupervised ("ghost" stations). The terminal, also available in single-sided version, allows comfortable and dedicated access to the different functions, with a clear separation of responsibilities for both the printer's paper return, that for a check-up maintenance, or for cash withdrawal by the CIT.
FlexPay B2B is based on the latest generation of Gilbarco Veeder-Root's SPOT platform, and it is the only terminal currently certified to the latest PCI4 regulations, the highest standard of electronic payment security.
Equipped with the latest generation of processor enables a swift and simple user experience with an easy to navigate linear and intuitive graphical interface on a 12" VGA screen, designed to minimize any possibility of user error.
Market leading outdoor payment terminals
Gilbarco Veeder-Root is the market leader when it comes to payment terminals, with more than 350,000 terminals installed all over the world since 1970, offering multiple self-service payment terminal options.
FlexPay is designs to increase the flexibility of the forecourt or petrol station.
All FlexPay B2B payments solutions are designed to support both attended and unattended sites. FlexPay payment terminal allows customers to operate 24 hours a day, even in the total absence of personnel (Ghost Stations) to the highest level of security.
The highest level of security
All FlexPay B2B terminals are Europay, MasterCard and Visa (EMV) level 1 and 2 as well as PCI certified. The M7 is the first terminal with Outdoor Payment Certificate PCI4, the latest and highest Standard of Security EMV - ensuring the FlexPay longevity.
Flexible and highly adaptable
The FlexPay B2B has the ability to be installed with Gilbarco Veeder-Root fuel pumps or integrated into other third party products. The payment terminals can be installed as standalone units or integrated into the fuel pumps.
Advanced customer experience assured
Promotions, couponing and merchandising help to increase customer loyalty and stimulate additional sales. FlexPay can be facilitate Fleet and loyalty programs, through a rich and functional user interface, capable of advanced customer communications.
Increase your site throughput
Gilbarco Veeder-Root payment terminals are designed to be easy to use with customer convenience and experience as a priority. Reduce the queueing times at the fuel pumps and increase opening hours and revenues whilst also gaining more control over your forecourt business.
Reduce your operating costs
FlexPay SPOT B2B improves site automation facilitating faster transactions and allows your site to run more smoothly and efficiently for profitability .
Multiple payment solution options
FlexPay B2B accepts a vast range of payment options including debit/ credit card / loyalty, cash and vouchers. It can be equipped with 2D bar code reader as well as contactless card technology. Designed and built with long-term use as a focus, the payment terminals are scalable facilitating future upgrades and adaptability.
Reliable
Gilbarco Veeder-Root has drawn from over 40 years of experience in automation to create a highly robust payment solution terminal. With over 350,000 terminals installed worldwide we stand by our quality and so do our customers.
Multiple payment options
FlexPay B2B is able to handle any form of payment: cards, notes, bar codes, vouchers or coupons, designed for contactless payment systems.
Small footprint.
Designed to adapt to restricted areas, near the fuel pump, beside the fuel pump or on the wall. Fixings are designed to be the same as other 3rd parties to avoiding complex site works at installation.
Modern Design, ATM-style
Keeping things familiar for the customer the automated teller machine (ATM) style of design makings things easier and simpler for customers to use. The new modern look and feel makes the terminal more attractive and helps to improve the customer experience thanks to the LED lighting and will make your forecourt distinct from your competition.
Easy maintenance
Whether it is to replace the roll of paper, regular engineer maintenance check-up or 3rd party money collection, the payment terminals front access panels allow ease of access whilst maintaining a high level of security.
Highly customisable
FlexPay B2B is flexible and scalable. Additional optional components allow the payment terminals to meet all current and future needs. Manual or motorised card reader, anti-skimming, barcode reader, contactless reader, branding, graphic printer with automatic partial tear or cut.
Highly Secure
Designed to stay in place, FlexPay SPOT B2B has proven its reliability in thousands of installations. Payment options for "cards and banknotes" and also "only cards" means that the FlexPay B2B can integrate with anti-theft systems and video surveillance to make it the most secure payment terminal on the market. Integrated with safety device SPOT inker for banknotes staining in case of theft or attempted attack.
Also available with stacker system that in addition to optimizing the management of cash is also effective to mitigate the cases of phishing attack for the banknotes. FlexPay B2B provides additional security options that allow the withdrawal of cash by armoured car companies (kangaroo auto sealant or stacker, electronic combination lock). A safe investment that pays for itself in a few months, increasing profits for the year.
Based on
Gilbarco technology SPOT
Configuration
OPT standalone, two-faced
Acceptance of payment
Cards and / or banknotes
Options: Scan barcodes, contactless reader
Card reader
Hybrid, manual or motorized with anti-skimming
Keyboard
Pin Pad 16 keys
Printer Type
High speed graphic printer, tear-off or automatic cutting system
Paper width
6m
Screen
WIDE 12-inch touch function keys, with vandal-resistant glass display
Approvals
EMV Level 1 and Level 2, PCI PED 4x (POS-A), and ABI Microcircuit
Options
IP54 rating, LED lighting, anti-skimming, 2D barcode, contactless, for personal 24h unattended kit for collection built by third parties, stacker device, the safety devices