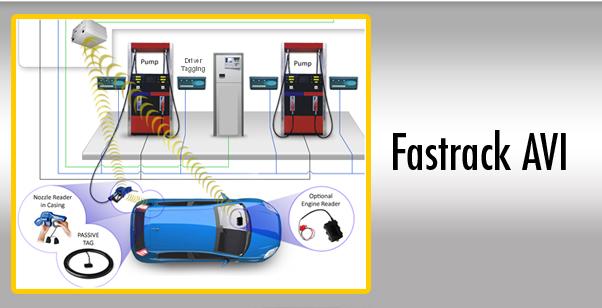 The FasTrack Automatic Vehicle Identification (AVI) system provides control and reduces fraud for all types of fuelling scenarios (attended or unmanned site, retail or commercial sites). FasTrack uses wireless RFID devices located on the vehicle tank inlets and the nozzles to create a tight bond between a vehicle, the authorization of the transaction, and the flow of fuel into approved vehicles…and no place else!
The FasTrack AVI system is fully integrated with the DOMS PSS and Postec PCC automation solutions. This allows Gilbarco Veeder-Root to provide complete end-to-end AVI and automation solutions, or to integrate our controller/AVI sub-system with an existing automation solution.
Another important part of the FasTrack AVI system is the vehicle data meter. This is also a wireless communications device. The meter attaches to the vehicle computer and reports vehicle telematics (e.g. odometer, engine hours, vehicle tank gauge levels). The vehicle information is collected and reported with the fuelling transaction and reported to a head office database. This data can be used for vehicle maintenance purposes or for calculating things like fuel consumption (km per litre).
If you seek additional security in your fuelling, add our driver tagging option to your AVI system. This feature will allow you to identify both an authorized driver and an authorized vehicle for each fuelling transaction. The account management software can be configured to allow for one vehicle to be driven by one or many drivers…..and for one driver to be authorized to drive one or many vehicles.
Security that fuel goes into correct vehicle (protect fleet owner costs by reducing fraud)
Additional vehicle data capture (increase fleet vehicle maintenance)
No human intervention (faster, simpler, more accurate fuelling transactions)
AVI is a service that oil companies can use to differentiate (attract new fleet business + keep existing fleet customers loyal = revenue growth)
Security

physically secure tags (multiple tamper-proof mechanisms)
all wireless communications are encrypted
all tag ID numbers are unique (no duplication possible)
combine FasTrack with our driver tagging for additional security

Industry approvals (e.g. ATEX, FCC, etc.)
Additional data on the tag – besides the unique ID number (which is programmed in the factory and cannot be changed), we can also burn additional information onto the tag, such as restrictions and limitations that are specific for that vehicle.
Replaceable batteries on the nozzle readers.