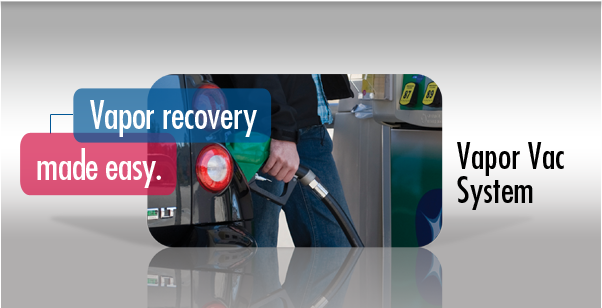 VaporVac® vacuum assist vapor recovery system dispenses fuel 30% faster than typical balance vapor recovery systems.  The equipment is less bulky, so customers will be happy with the easy-to-handle hoses and nozzles.
The VaporVac system meets EPA requirements for Stage II vapor recovery.
VaporVac uses pulser signals from the meters to track real time flow rate of gasoline.
Customer places the VaporVac nozzle in the vehicle (no bellows to compress).
VaporVac pump creates a vacuum that removes vapors from the vehicle's tank.
The vapors are returned to the fuel storage tank through standard balance system underground vapor painting.
The vapor pump controller regulates pump's speed proportional to fuel flow rate.
Features & Benefits
Factory-installed on the Eclipse series
One vacuum assist pump per fueling position
Compatible with standard Balance System underground vapor return piping
Available on the following new models
Blender X+1, 2 sides*
Blender X+1, 1 side*
MPD Single-Hose, or Blender X+0, 2 sides
MPD Single-Hose, or Blender X+0, 1 side
*Note: For Blender X+1, VaporVac is NOT available for the "+1" product (whether diesel or gasoline).
Options
Vacuum assist hoses: Dayco, Goodyear, Thermoid
Vacuum assist nozzle: OPW II VAI, EMCO A4500, Husky V3
Vacuum assist breakaway: OPW 66FLB flow limiter/breakaway, OPW 66CAS
Vacuum assist flow limiter: Husky 5837, OPW 66FD