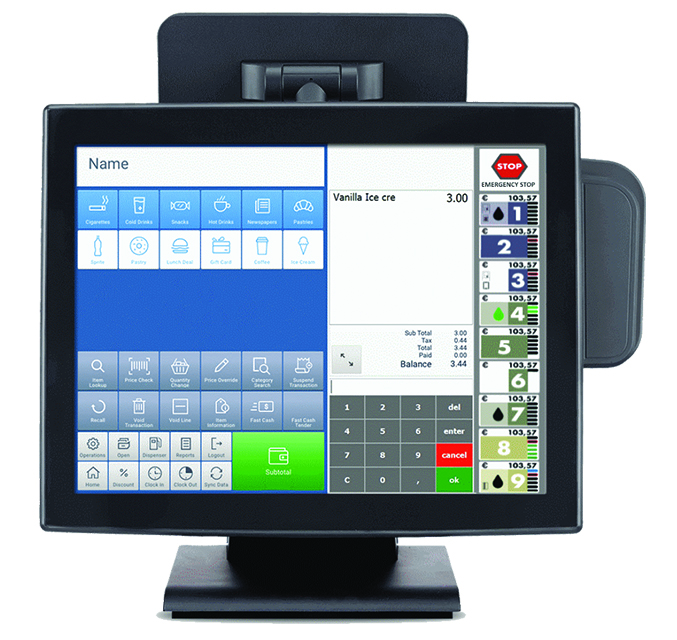 It's time for connected retail
Innovative solution for seamless c-store & fuel station management
Real time retail network management through cloud HOS
Based on a multi-channel engine ready to extend the business beyond the brick and mortar shop
Request a Quote
Brochure (PDF)
Leveraging the latest technology, Passport X brings together the experience and reliability of Gilbarco Veeder-Root's fuel retail solutions with state-of-the-art support for the C-store, unleashing the power of real time connectivity.
The Passport X solution suite includes an easy to use Cash Register application with full payment support for fuel and shop items, a web-enabled BOS for managing site operations from anywhere, and a built-in cloud based HOS module to manage the retail network with full control and operations capabilities.
Passport X also includes all forecourt device management features for connecting and driving dispensers, ATG, outdoor terminals either through external forecourt controllers (e.g. PSS 5000) or using built in forecourt controller modules.
Increase volumes
With Passport X it has never been easier to accept a huge variety of payment methods including debit and credit cards, various branded fuel cards, as well as other closed loop cards and local accounts.
Cards are accepted both for post payments at the cash register, and for pre-authorizations at the outdoor payment terminal. With Passport X it is possible to extend your hours of operation to include periods where your site is unmanned (e.g. at night) through a flexible management of outdoor payment terminals.
Integrated shop management
On top of offering a complete solution for managing fuel sales, Passport X can also take care of your shop sales, though touch keyboard shortcuts and barcode readers. The built-in back office module allows the product master file to be configured and dry stock inventory levels to be tracked.
Full control from anywhere
Get your site network under control from anywhere through a modern web-based administration control panel. Set your user profiles to limit visibility to one site, a cluster of sites, or the entire network.
All your data is automatically centralised in real time and any changes you make can be immediately reflected into the stores and forecourts.
Enhance customer loyalty
A powerful tool for improving customer loyalty is enabling a dedicated payment method for a single site or for your entire site network. Passport X can manage local accounts as well as provide solutions for network card acceptance. Existing loyalty programs are also easily integrated into the sales process for an even better experience for your customers and site operators.
Gain market share through offer segmentation
The forecourt can be easily segmented according different service models thus addressing each of the valuable customer segments in your area.
Forecourt control and fraud reduction
Each event occurring in the forecourt is shown on the cash register screens and the exact amount collected from the dispensers can be transmitted to the card terminals avoiding any possible typing error or misuse during the sale process.
Complete reporting allows fine reconciliation and immediate evidence of theft and losses. Automatic Tank Gauging systems are also integrated to improve the reconciliation and loss detection capabilities and feed your logistic processes.
Facilitate P&L and accounting
All movements relevant to the profit and loss are tracked to feed accurate reporting and monitoring of the site's business. Real time site transaction data is also available for a seamless integration with any third-party accounting system.
Increase volumes
Passport X is totally scalable and offers several optional building blocks to adapt to every forecourt and business model.